Compressport Unisex's Arm Force Ultralight - UTMB 2021:BLUE
Sorry, currently out of stock
August in Chamonix can be hot, and it can be freezing. So turning up to the UTMB® with your layering game on point is absolutely essential. The UTMB® edition of the ArmForce Ultralight sleeves gives you a flexible pull-on, pull-off solution that makes life easier when all you want to think about is running. Designed from the same fabric as our high-performance socks, the seamless sleeves are extremely comfortable and lightweight. Thermoregulation is key, perfect to wear under a t-shirt at the start of the race and through the first nightly hours. Gentle compressive properties precisely target key muscles for stimulated blood flow and support, so your arms stay fresh as the hours wear on. Particular attention is given to the elbow area, where a lighter weave allows for exceptional freedom of movement and extra ventilation. Finally, signature 3D.Dots are built into the forearms for enhanced blood circulation, although they may also double-up as excellent sweatbands as you grind up towards Col Ferret. Super flexible, pull them off when you get hot and stuff them in a pocket, ready to pull on again when the air freshens. The licenced 2021 UTMB® design features the official event logos and a checkered blue pattern on the forearms. Highly versatile and an absolute must-have in your essential gear.
KEY BENEFITS
Maximum thermoregulation to help keep your forearms and biceps warm when its cool and cool when its hot
Optimal comfort and ergonomics provided by a seamless microfibre weave, including exceptional freedom of movement thanks to a lighter weave in the elbow area
Exceptional lightness and high-level ventilation thanks to a technological, microfibre weave which quickly wicks away sweat and moisture
Product net weight
40.00 g
Compositions
96% PA 4% EA
Wash & care instructions


TECHNOLOGIES
AERO KNITTING
Optimum inside and out heat exchange with optimised perspiration evacuation.
SIZING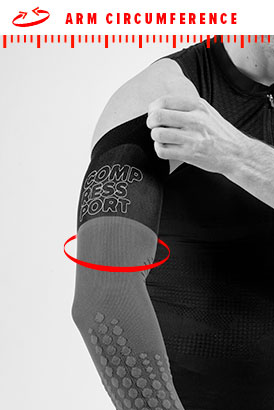 | | CM | INCH |
| --- | --- | --- |
| T1 | 22-25 | 9-10 |
| T2 | 25-28 | 10-11 |
| T3 | 28-31 | 11-12 |
| T4 | >31 | >12 |